We zetten een gematigde haussestrategie op in Pfizer, de Amerikaanse Pharmaceutical, Tickersymbol (PFE). Dit fonds, dat bekend is van de Viagrapillen en vaccins, heeft een market cap van $270 miljard en genereert momenteel een dividendrendement van 3,3%. De koers noteert net boven de $48 en we houden fiducie in het fonds. We schrijven dan ook een januari put.
Wat houdt een geschreven put in?
Bij een geschreven put gaan we een gematigd directionele trade aan met de visie dat de koers van een aandeel gelijk blijft of gaat stijgen. Zelfs als de koers wat zou gaan dalen, dan hoeft dat geen probleem te zijn. In ons geval hebben we nog een marge van ruim $3. Met een geschreven put gaan we een (potentiële) afnameplicht aan van 100 aandelen. In dit geval op $45.
Bij een expiratiekoers op 20 januari boven de $45 zijn we veilig. Een koers onder dit niveau betekent dat we e.v.t. de stukken moeten afnemen $45 per aandeel. Dat risico vinden we zeker acceptabel. Blijft de koers boven dit niveau, dan kunnen we de ontvangen premie ad $80 definitief opstrijken.
Huidige koers onderliggende waarde: $48,40.
Transactie:
We schrijven (Open Sell): 1 PFE JAN20 45 Put @ $0,80

Nieuwe positie:
Short: 1 PFE JAN20 45 Put @ $0,80
De verstrekte trades zijn geen expliciet beleggingsadvies en hebben slechts een educatief karakter.
Handleiding Handelen in Opties als een Professional
Als je eveneens of meer interesse hebt in handelen in opties, dan is het door Harry Klip geschreven handleiding Handelen in Opties als een Professional wellicht wat voor jou. Daarbij ontvang je ook nog 1 maand de OptieAanbevelingen Cadeau!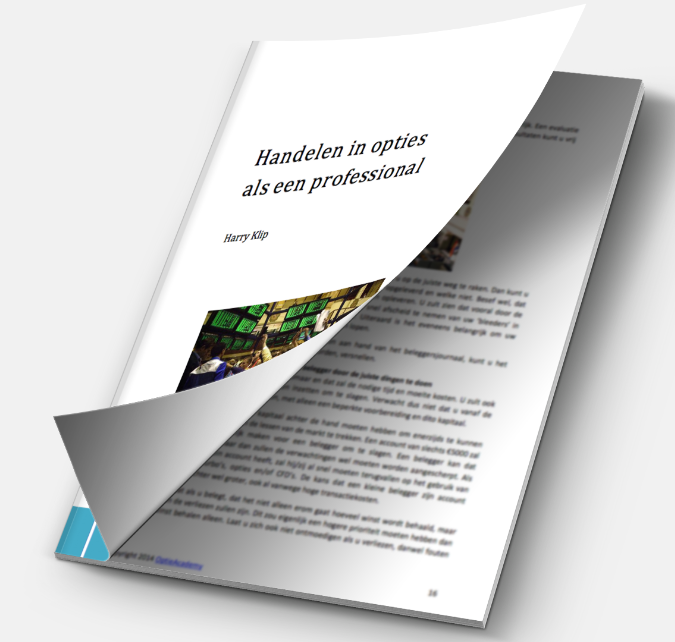 Klik hier om de handleiding te bestellen: https://www.paypro.nl/product/Handleiding_Handelen_in_Opties_als_een_Professional/100675